Lights, music, feel the beat.
I love music, I love to dance. I also love to watch movies, but what I love most is musicals.
My favorite? Chicago for sure, what a wonderful film. So full of dancing, beautiful costumes, and the music, I just want to get up and dance myself.
Anyway, why am I mentioning musicals? Well Burlesque is one of the cutest musicals I've ever seen, it truly is contagious, makes you want to be there, like you want to go back in time and sit in one of those dainty little clubs sipping on a Manhattan while you watch the girls preform. Fab!
Smashbox is somewhat of a new brand for me, I have one or two of their products, so this was a win win situation for me. They released a kit called "Burlesque Beauty Collection" in which they packed an eyes an lip combo for you to re-create some of the looks from the movie. I'ts filled with shimmer and sexy colors so you can too feel like a showgirl.
This kit has a pin-up feel to it. The packaging itself looks fab, makes you feel like the box is filled with sazzyness and sexyness. Upon opening the box you will find a small written tutorial that will lead you step by step and help you achieve that Burlesque look. I found that so fun and I even attempted. Too cute!
The kit includes a quad with very fun colors, a loose shimmer powder, a liquid liner pen for that sexy cat eye and a double ended lip-gloss.
Overall this kit is extremely fun, I love every single thing about it and I am glad I got it. So, let's score this baby:





The eyeshadow quad is nice, I like the colors and they blend well together. The staying power of that liner is amazing! Once it dries it's not going anywhere. I also like the fact that it's in a pen form, for liner retards like me this is huge, it's almost foolproof. The loose shimmer powder is ubber fun, you can put it your inner corners to brighten your eyes or on top of your blush for a little glow. The glosses are ok, I recommend pairing it with your favorite lipstick and bamm, you will transform yourself into a sexy kitten. XD
I'm glad I got this set, I truly enjoy it and I know it was released a few months ago but I still think that if you're thinking of getting it, then you won't regret it.
My pictures look kind of funky, sorry about that by the way: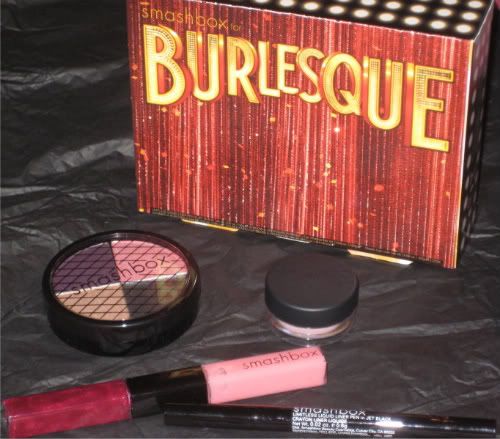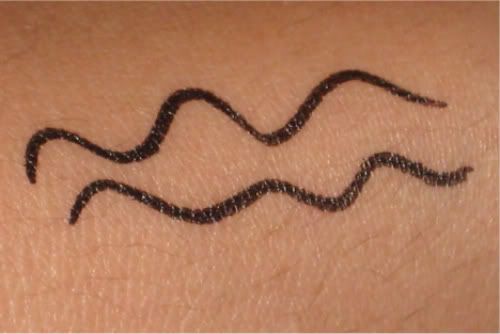 Sephora no longer carries this set but you can still buy it from
Smashbox
and it will cost you $26.25, not bad huh?