We all love to try new things right?
Right?
Well I do.
Since I first discovered how fun makeup was and how passionately I felt about it, I wanted to acquire more and more brands. Educating myself about the companies and the textures and what each thing could do for you was my first mission.
Well all this could seem like fun but it is also very expensive. Writing a blog in itself is expensive. Not only do you have to research, swatch, take pictures and write about a certain product, but doing it on a regular basis can really put a damper on your wallet.
Luckily, there are "indie brands".
Indie refers to the word Independent, usually these are brands created by one or several individuals just like you and me who have a passion for makeup and who a great deal of creativity. Their companies are fairly new and they run their shop right from their home. Now what's good about these companies is that they offer good quality product for a very low price.
I have a friend who recently started one such company. Her name is Jennifer Waldorf and she makes gorgeous mineral eyeshadows among other things. She named her company Cosette's Cosmetics after her cute cat "Cosette."
Now right off the bat I want to make something clear. She is not asking me to write this, I chose to do it because as with anything I buy, I like to tell you guys what's out there and whether or not you should spend your money on it.
This is one of those thing that I think it's worth looking at, so there.
Anyway, as I was saying, mineral eyeshadow! What's so great about it? Well for starters, the colors offered by her are hypoallergenic, they are also vegan because as she puts it; "if you CAN make the products vegan and natural, might as well do it that way". I agree!
Another great benefit is the easy removal. Just wipe with a warm moist washcloth and you're done!
I like the fact that since it's made from what the earth provides, it's actually good for you. I mean come on, do you need any more convincing?
So once I heard the word mineral I was sold. Now since this is a new company, I wanted to try different options without having to commit to full size jars. The solution? Cosette's Cosmetics has sample bags of each collection for you to try. I've used my colors a total of three times and it looks like I haven't even made a dent on my little sample baggies.
Now let's get to the nitty gritty of the lot.
The cosmic collection is beyond beautiful. They are filled with shimmer and sparkles that shine. Names such as "Alien", "Glow Worm", and "Delorean" give such a funky vibe that I actually feel like a futuristic diva wearing them.
The pigmentation on some of the colors are really nice especially on those darker ones that don't contain as much shimmer.
Now there are colors that are not supposed to be super pigmented, they are light in color but powerful in shimmer. I love these colors to put on top of others or over a base. I'll show you what I mean in the pictures.
With any mineral product, staying power depends a lot on your primer and the conditions which you put them through. I used mine on top of Urban Decay primer potion and they held pretty well throughout the day.
I also got two other things from Cosette's cosmetics.
I got their beautiful Fab finishing powder, perfect for that beautiful flawless finish. It looks pink on the jar but it goes on translucent leaving you with a very nice soft finish.
The last thing I got from them is Coffee Luxe Lip Butter in a tube. It smells so wonderful! My boyfriend said it smelled like Starbucks. It also tastes so yummy too, but Cosette's Cosmetics said not to nom on them so poo! I also got some pretty nifty samples such as two extra baggies of the mineral shadows from the Pony collection and a very pretty Moisturizing Lipstick.
Now, what you're all been waiting for. PICTURE TIME!!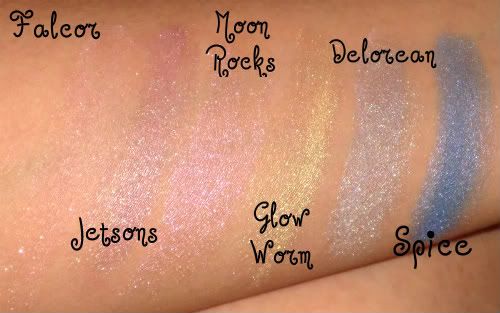 I got these two as a sample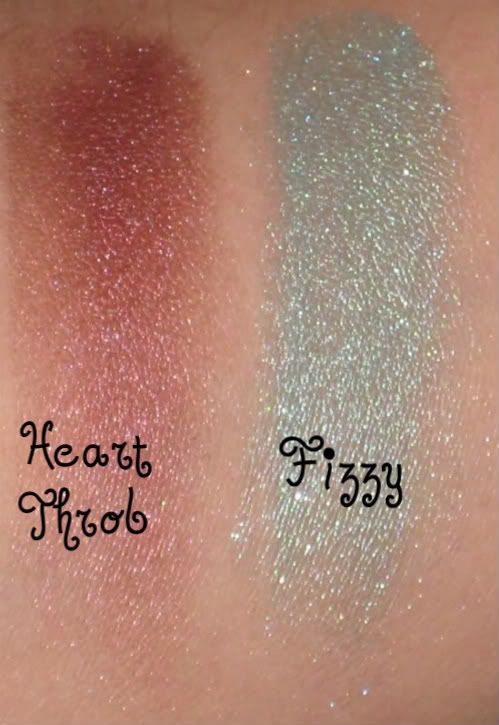 I also purchased this Coffee Luxe Lip Butter in a tube. It smells divine and it goes on clear.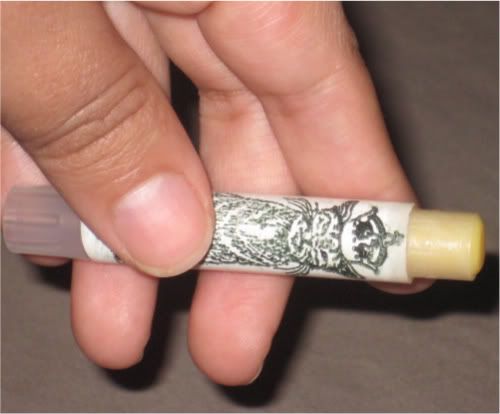 This is a little experiment I did. I wanted to swatch some of the shadows with a white and black base underneath to see how the colors would show up. I love them all!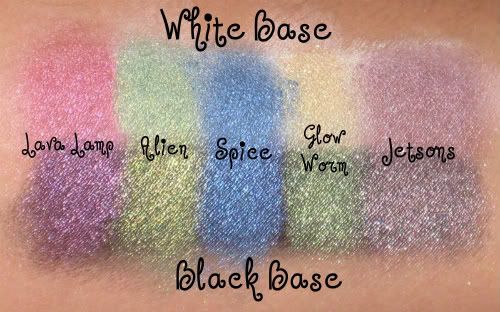 So, the moment of truth. What rating does this ubber cute company deserve?





Inexpensive, good quality and great customer service. What more can you ask for?
Please remember that this is a new company, packaging isn't the best but I'm ok with that. The company's main focus is to get you your product on time and in the best condition possible. I am positive that as time goes by and the company generates more revenue, the packaging will improve. So far so good though.
Give Cosette's Cosmetics a chance and I promise you will be pleasantly surprised.
Here are two more pictures. I have them on with only a primer. The flash washed away some of the color but left all of the sparkle. Love!!
I have "Moon Rocks" on the lids and "Glow Worm" on the inner corners.




Click on pictures for a bigger view.
You can purchase Cosette's Cosmetics products only from
Etsy.com
at the moment.
Product pricing may vary depending on the amount of samples and/or full size jars you are getting. To give you a ball park estimate, I spent a total of $23.00 on my entire order including shipping.
Disclaimer: I purchased all these products with my own money. I never requested anything for free, neither was I asked to write a review for any type of compensation. The free samples I was given are a common thing for this company.
I said in the beginning that the owner is my friend but my opinions on her cosmetics are honest as with anything I review.