One of the very first things I bought at sephora was my bare minerals get started kit. Now be aware that this was purchased back in 2008 and since then the kits are a bit different. You've seen the commercials right? Flawless skin, made from natural ingredients, so gentle you can sleep in it. Yeah, pretty cool. So I went online and purchased it. I was skeptical but boy does this stuff actually work. At first glance the kit is a bit overwhelming. You get four jars of minerals, two of them are the foundation in different shades that are supposed to complement your skin tone. The third one is called warmth and it's some sort of blush/bronzer that's supposed to go where the sun naturally hits you to give you some color. The last jar is called mineral veil and this is my favorite because you're supposed to apply it at the end of your skin ritual to eliminate shine and to seal all your makeup in place.
What I liked about this kit was that it was a mineral foundation. I never used foundation prior to this because I hated the thought of something gooppy and icky on my face, plus I was too young for foundation. This foundation though was so silky and lightweight, it's like putting powder on your face. You can't feel it afterward, it's completely lightweight but it gives you coverage. Now, I don't need a lot of coverage so I guess my opinion doesn't count much, but if you talk to other people who have used this and need a lot coverage they will tell you how great this product is. Another good thing about this, it's the fact that you can build it up. You only use a little and dust it on your face, if you need more just apply more and it gives you more coverage!
The kit came with those four jars mentioned above, a primer, and three brushes; kabuki brush, flawless application brush and a concealer brush. The concealer brush is amazing, it's like a little magic wand. You use the same foundation to spot correct your blemishes and red spots and it works beautifully. The kabuki brush is another good one, it gives you more coverage and it feels great on the skin.
So how do I rate this product? I give it:
It is by far one of the best products I've purchased, it's 2010 and I still have a lot of product, granted I don't use it everyday, but still, you only need a pinch to cover your whole face. Best part is, you can sleep in it. I'm not recommend you go to sleep with makeup on, but I know some of you come home tired from work or school and just don't feel like taking makeup off which in any other case would be bad, but with this foundation it's ok.
Here are my before and after shots using Bare minerals: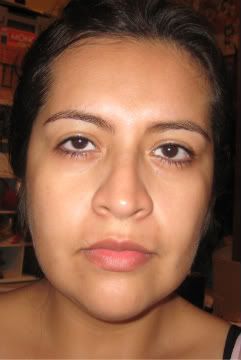 Well there it is, you can purchase this product from
Sephora.com
or go to a store, I suggest the latter because one of the girls there can help you better match your right shade. The kit will cost you $60, well worth the price for the stuff you get.
(I forgot to mention that this contains SPF, how cool is that?)