Hey guys, here I am again with another great find to review for you. This time it's in the form of a much cheaper product.
It is the Coastal Scents 88 Matte Eyeshadow Palette, what a mouthful right? Well I made it a point to give you the full name since there is a couple of other 88 palettes from them, one of them being the shimmery one which looks almost like this but as you can assume, it has shimmer.
Anyway, let's get this review started, shall we?
Over the beginning of my beauty tutorial experience on YouTube, I came across few videos that included this palette. Some of them were reviews and others were tutorials were they would show you the many looks you could create with it. Now, as some of you who are just starting with makeup, you have the precognition that name brand is always better and in some cases you are right, but back then I didn't know that cheap didn't necessarily mean poor quality as in the case of Coastal Scents products.
So I ignored it. Yes, this palette was everywhere, all the beauty channels had at least one video about it, yet I still ignored it. That is until the boyfriend started complaining about his wallet, he mentioned something about going broke I think. So I was on a mission: to find great makeup at great prices. That's when this palette came to mind. I looked it up on the website and it was less than $20, oh emm gee!
I couldn't believe it so I had to do some research.
Turns out that palette was a great buy, the colors are gorgeous to say the least and the pigmentation is pretty nifty, Not only hat, but you get 88 eye shadows to create as many looks as you desire!
I watched video after video educating myself on the matter and once I made the decision to get it I realized I had another problem. Shimmery or matte?
I'm a shimmer all the way gal so you would think that the choice was obvious right? Well not really, you see most of my eyeshadow palettes are already shimmery and although I love to sparkle, I wanted some colors that could help me create a more toned down look. Still, I watched more videos to help me choose and I finally decided to get this one. I figured that I could get the other one later on if I really wanted.
So I placed my order and a week later my order arrived. I was so excited, it was huge! The palette itself was a bit smaller than I expected though, but experience has taught me that isn't always a bad thing. It is super portable, I can put it in my bag and be ready for whatever. Not that I carry makeup palettes wherever I go, but it suits me nicely for when I plan to spend a weekend at my family's house.
So on to the good stuff. The colors are beautiful and vibrant, they are sectioned into bunches, not rows, because some rows contain other colors, you'll see what I mean when you get to the pictures. You have your greens, and your neutrals, golds, purples, blues, blacks and my favorites: pinks! Each eyeshadow circle is about the size of a dime I would say, but they are so pigmented that you only need a little to pack onto your eyelid and blend. This is great for someone who is just starting out with makeup and wants to experiment with color.
So how does it look on your face you may be wondering. Well I used Marlena's video from her YouTube channel Makeupgeektv right
here
, where she teaches you how to do a smokey eye. Now I'm not talking about the black on black smokey eye, I mean any type of color smokey eye you want to get and since I like pink, that's the color I used. Oh my goodness my darlings, I was so impressed with the colors and how it looked, even my boyfriend who is completely uninterested in makeup thought it looked beautiful. I have to say that this is one of those great buys where you will be completely satisfied.
Now I know this was a long review and I thank you for reading all the way through. Sometimes I like to give the back story behind my purchases and reviews so you can get an idea of what incites me to buy a product.
So what's the verdict? I give it a million lipglosses!! Oh wait, I can only issue five.
(5 out of 5 lipglosses)
I would still give it a million if I could, it is that good!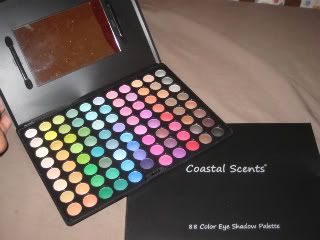 -You can purchase this palette from
CoastalScents.com
and it will cost you $18.95 plus S&H
While you're there I recommend looking through the other products they have to offer, I am definitely purchasing more stuff from there in the near future.