Comments posted after the comment I made on Sept. 7 2010 at 1:15 AM will not count towards the contest. This contest has ended!
!
Can you imagine waking up at 5:00 AM and waiting in line for five more hours to get your hands on some piece of makeup?
Well imagine no more, because I did it! It wasn't any ordinary piece of makeup either, it was the coveted, highly anticipated, drool-inducing Book of Shadows Vol. III from Urban Decay.
I'm sure by now you've seen people blogging about it, tweeting about it, or you've heard about it on facebook and whatnot. Urban Decay has created a book of shadows dedicated to the super fab NYC. I live in the Bronx so I decided I would make the trip down there and get it before anyone else. Now, be aware that the palette hasn't even been released on urbandecay.com, it was exclusively being sold at Times Square on August 28th from 1 - 9 p.m. Only 1000 pieces were available and the first 200 got free t-shirts.
Here is the footage I got, enjoy!
My very sweet boyfriend surprised me by volunteering to go super early and make the line for me. He got there a little after six am and he was very surprised to find that he was the first one!
People passing by laughed at him and some Sephora employees too! He didn't care though, he explained that this was important for me and he wasn't going to go anywhere.
After a little while they offered him a chair so he could wait comfortably for my arrival. I arrived a little after eight and relieved him of his position. He went home happily knowing that he was going to get away with anything he wanted this week for doing me the favor lol.
Oh my goodness, the time flew! I started chatting with the girl second in line, and after a while we noticed that we our names sounded familiar. It wasn't until we mentioned Peggy, that we realized we were both part of Peggy's Wakeup Roll call! What a coincidence. There we were, complete strangers one moment to chatting about everything the next. So much fun!
As time went by, I started to grow more and more excited. I didn't want to move from my spot for fear I would miss something. Once 10 am came, one of the girls came out and started putting wristbands on us with numbers on them. The displays were brought out and they were really getting hyped up inside. More and more people lined outside and then the sweetest thing happened. The girls from Sephora came out with a big box full of Apple Cinnamon crisps, super yummy, super nice! They fed us! I just thought that was a nice touch and totally worth mentioning. Then a gorgeous super fab guy came out and showed us the palette, he let us take his picture too!
Time was drawing near, and at 1:00 on the dot they came out and started organizing and talking about how they were to proceed. They took us in ten at a time, straight to the registers, we purchased our palettes, got our shirts and scored some samples!
Then we got a makeup consultation with Urban Decay's very own team of makeup artists including the very sweet Eric Jimenez. This man, omg, this man is so fabulous and bubbly. I love him! The way he talks, the way explains things, his whole being is just so sweet, what a wonderful time we had!
Finally, we took some more pictures and very reluctantly headed out. I didn't want to leave! It was such a wonderful event. Oh my, I wish I could do it again!
Now, picture time!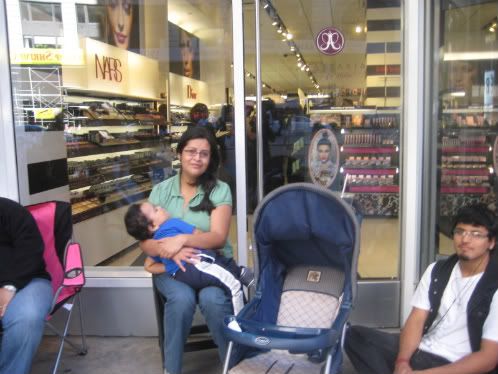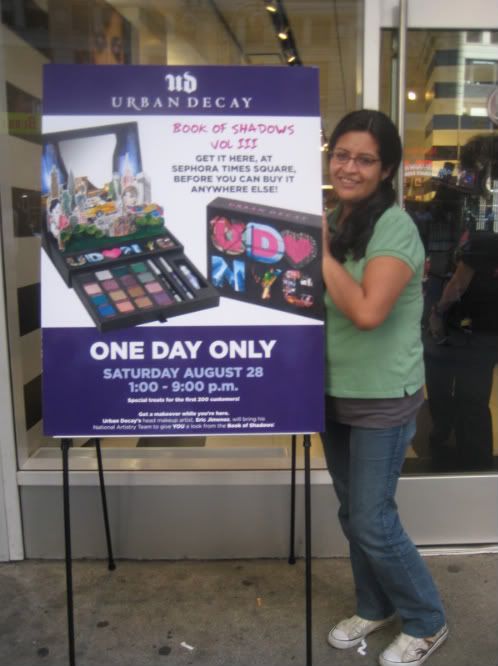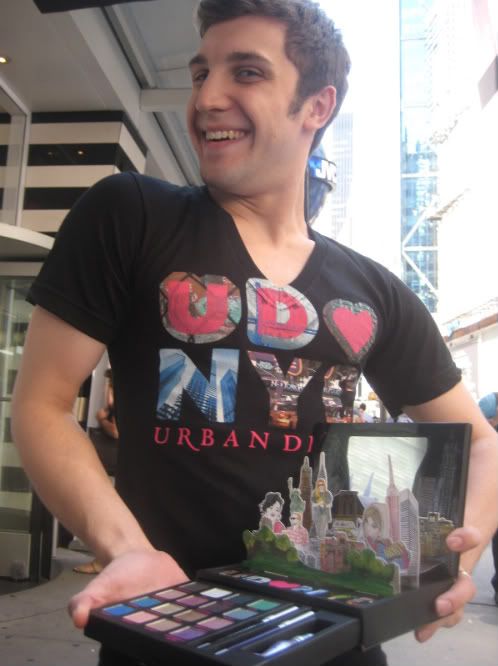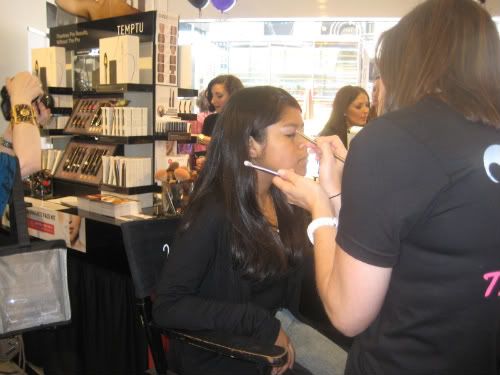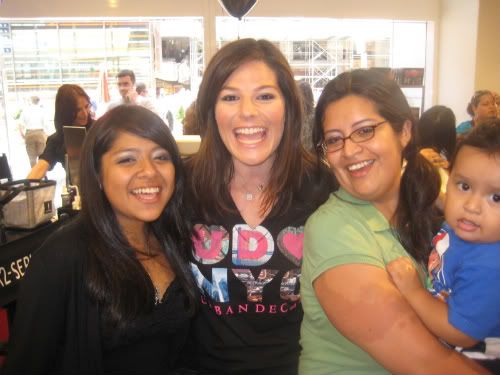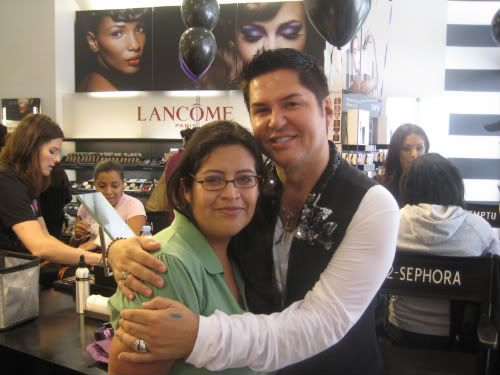 All I can say about the palette is that it's gorgeous. Completely exceeded my expectations. It looks absolutely gorgeous and being a Ny girl, I had to have this. Yes I waited in line for hours, yes my feet hurt a little, and yes I dragged my baby with me but it was all worth it. I'm a die-hard UD fan and as a die-hard fan knows, UD products are worth your money and time. The shadows are as expected, highly pigmented, I love their names and the way they look. I also adore that they include a mini primer potion with it, you can never have too many of those.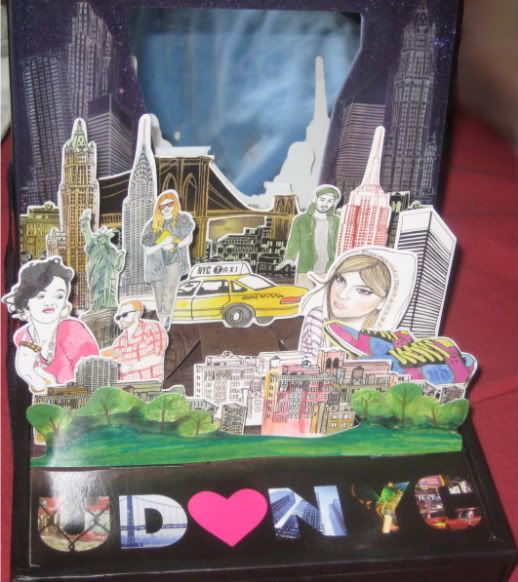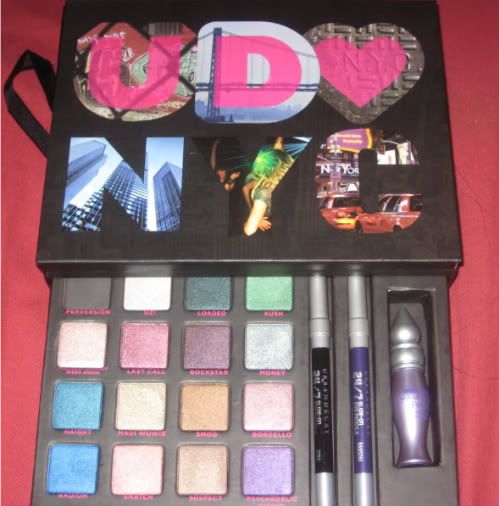 Swatches are from left to right, top to bottom




This is the look Fran from Urban Decay came up with for me at the event.
Love!!

Contest rules:
- Must be a subscriber to both this blog and my youtube
channel
.
- If you're under 18 please ask your parent's permission
- Open worldwide
- Leave a comment HERE, in this blog spot telling me about your first Urban Decay prodcut. What it was, how did you like it and if you have a picture better yet!
- Only one entry per person.
Contest ends Sept. 7th!
I hope you liked this review.