You've all heard of E.L.F. right? No not the little guy that helps Santa on the holiday season!
I mean Eyes Lips Face cosmetics. It is this super affordable makeup brand that provides decent quality makeup for a steal!
Prices start at $1!
Now, just because it's cheap it doesn't mean it's no good. This brand has many cosmetics and tools that are actually a bargain and work pretty well.
There are things that aren't so well, but for a price like that I'm willing to take some risks.
So, for me to get some of these E.L.F. products I need to make a trip, and it's hard for me because I have a little one to take care of and I don't drive. So what's a girl to do?
Order online of course!
I signed up for E.L.F.'s newsletter and they're always sending me promotional codes and special events where you can get discounted shipping, or a certain % off your purchase. I've never taken advantage of these because none of them seem good enough.
Well, E.L.F. has reached it's 2 millionth order and to celebrate they were giving free shipping with any order over $10. I had to get in on that, so I decided to place an order.
So, I now present you my mini haul.
Please be aware that since this is a haul and review in one, I will not go into much detail about the products, I'll just provide the basics and we can discuss a specific product in the comments section if you want to know more ok?
Let's get started:
(Click on pictures for bigger view)
-Minty Lip Gloss in "New York City"
Price: $3.00
Quality: Excellent!
Thoughts: Has a refreshing mint smell and tastes super yummy. Goes on sort of sheer.
-Lipliner and Blending Brush
Price: $3.00
Quality: Good
Thoughts: Not a fan of lip liners, got it for the brush. Color is ok, the brush is excellent!
-Shimmering Facial Whip in "Toasted"
Price: $1.00
Quality: Good
Thoughts: I'm just starting out with Whips. They're supposed to be multi-use. I bought it as a cheek highlight and I really like it!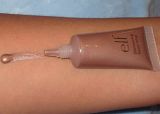 -Natural Radiance Blusher in "Flushed" and "Coy"
Price: $1.00
Quality: Pretty Good
Thoughts: Love the packaging on these, you slide the top up to use it. Pigmentation is pretty good.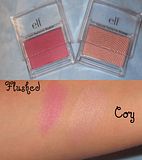 -Healthy Glow Bronzing Powder in "Warm Tan" and "Matte Bronze"
Price: $1.00
Quality: Very Good
Thoughts: Beautiful bronzers! Pigmentation is decent. Warm Tan is shimmery, Matte Bronze is really matte.
-Contouring Blush and Bronzing Powder
Price: $3.00
Quality: Excellent
Thoughts: Very handy little compact. Has a mirror for on the go application. You get a nice amount of product in there. Must have!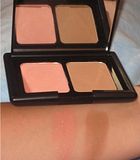 I also bought two brushes, and they were the Blushing, Bronzing, and Blending brush. I got two of the same kind because I wanted to use one for my blush and the other for my bronzer.
I like the tapered cut these have, great for applying product on the hollow of the cheeks. The bristles aren't very dense, but they do the job.
So that's it guys. I had tons of fun playing with my goodies. Hopefully this mini review gives you an idea of what the E.L.F. products are about and you can then form your own opinions once you pick some up.