Hey there my beautiful gorgeous darlings! I am very excited to announce that I've jumped in the boat and made a small video tutorial called Crazy for pink!
Now, please remember that I am no makeup artist, I have limited knowledge when it comes to makeup techniques. All you see here is me doing the best I can to show some of my friends from Sephora FB page and Peggy's Wakeup Roll call how I did a certain look a few days back.
Now I have to admit, I am a tad nervous. I would really appreciate it if you gave me your input on it. If you guys like it, I am willing to do more. I know the lighting in this video sucks, please forgive me for that.
So, without further stalling.... I give you CRAZY FOR PINK!
Now onto the written tutorial.
- Start by applying a primer. I used Bare Escentuals bareVitamins - Skin Rev-er Upper
- Apply foundation or in my case tinted moisturizer. I used Urban Decay's Urban Defense in Bulletproof.
- Set your makeup with powder. I'm using Palladio's rice powder in Warm Beige, use a big fluffy brush. I happen to use E.L.F.'s Total face brush for this.
- Next, primer your eyes. Urban Decay's primer potion is great for this.
- With an all over shadow brush apply the first color, I used a nice bright pink from the
Sephora 5 in 1 color play
. Use patting motions for this and then sweep back and forth when you get to the crease.
- With a crease brush apply a purple color to two thirds of your crease and your outer corner.
- With the same brush, apply an even darker purple to the crease
- Now, using a blending brush, I'm using MAC's 217, apply a dark plummy color to the deep crease and smoke it out upwards.
- With a smudge brush, apply the dark purple color to your lower lashes.
- Don't forget to use a skin color shade for your brow bone.
-Use your favorite liner to line your eyes and curl your lashes to apply mascara.
I'm using
Urban Decay's 24/7 pencil
in Zero and
Maybelline's the Falsies mascara
. I curled my lashes with E.L.F.'s curler.
- For cheeks I used the bronzer from the E.L.F.'s contouring blush and bronzer powder with a bronzer brush from the same brand. I also used smashbox's blush rush in Passion with another E.L.F. bronzer brush. I have two of them by the way.
- Using a fluffy brush like the one from ecotools, blend the bush and bronze together a bit.
- For lips I mixed two colors together. They look brighter on camera. If this is too bold for you just apply your favorite gloss. The lips have enough going on.
Now onto some pictures of the products I used:

\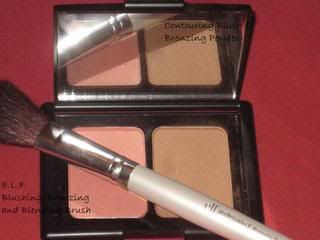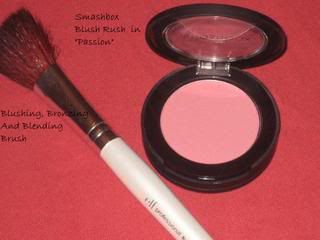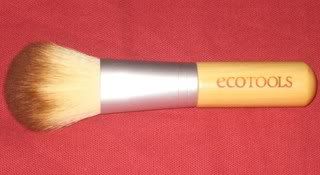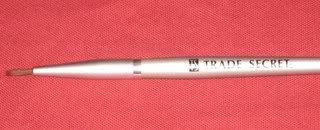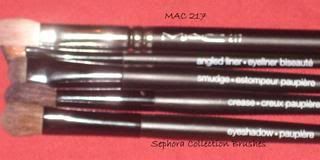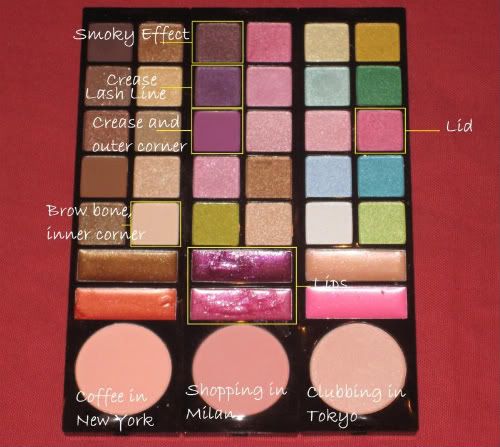 And that's it. If you want your makeup to last longer I recommend spraying some kind of setting spray. I use
Urban Decay's All nighter spray
. It works great!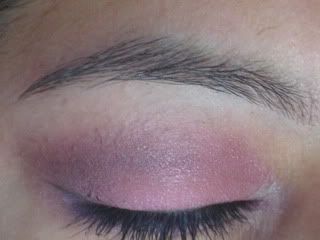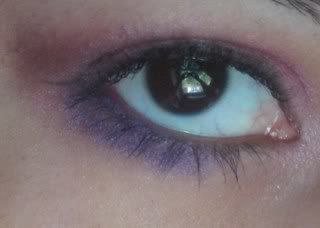 So that's it darlings. I hope you enjoyed this. See you soon!