"We carry the story of the people who make our clothes around with us... edun"
Beautiful isn't it?
So is this palette.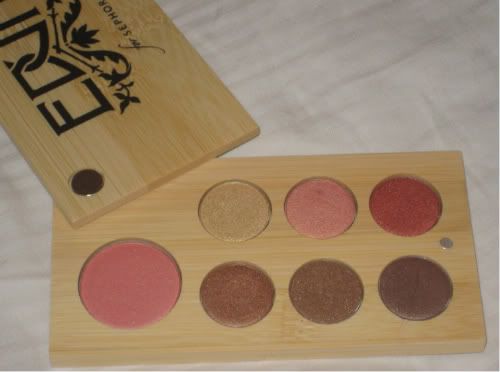 That phrase can be found printed on the strings that close the organic cotton pouch that holds this palette.
The palette is very simple but very pretty. It features six earth tone eyeshadows and one blush. It is contained in a natural wooden case with a sliding top and a magnetic closure. The shades itself are very neutral with some being matte and others shimmery.
A neat thing about this palette is that it's made with baobab oil from seeds harvested by hand by women in a village in Burkina Faso. This makes the shadows incredibly blend-able which I love!
It is also formulated without parabens, perfume, and talc. It is also allergen free.
There isn't much to say about this palette other than being really nice and a great buy.
I have to give this palette:




The only reason why I didn't give it a five is because I wasn't completely blown away. It is a nice palette, and I would recommended though.
On another note, being a great supporter of good causes, every $3 of each palette sold will be donated to the "Wildlife Conservation Society, to fund activities of the Conservation Cotton Initiative in Uganda, which supports the organic cotton trade while helping local communities and protecting biodiversity." (Quote from Sephora)
I really do like how it gives me a natural look, see for yourself:
Please excuse my horrible eyelining skills
You can purchase this palette from
Sephora
and it will cost you $15. Can't get better than that. I also want to mention that this is Limited Edition, if you want it, get it!